Standard Hydraulic Manifold
What we do
Hydraulic manifold is a hydraulic component used to regulate the flow of fluid. Resembling the circuit switch, hydraulic manifold also can control the flow of fluid among hydraulic machine components. Up until now, we have more than 1000 pieces of standard products in storage, including line mount manifold, sandwich manifold, motor mount manifold, bar mount manifold and etc., available for delivery at any time.
Our hydraulic manifolds usually are made of aluminum alloy, ductile iron, stainless steel, Q345D cryogenic steel and other metals. After processing, aluminum alloy hydraulic manifold block need to be treated by anodization and carbon steel hydraulic manifold block need to be nickel plated or zinc-nickel plated in order to make sure the hydraulic manifold block can tolerate more than 1000 hours in salt spray environment, meet the C4H standard, and bear various cryogenic and complicated environments.
Alternative solution
We can provide an alternative to cartridge valve manifold by combining SUN's cartridge valves with hydraulic manifold block manufactured by ourselves. Besides, we can provide a proper hydraulic manifold for you according to the size of hydraulic cavities and specifications of hydraulic manifold you required.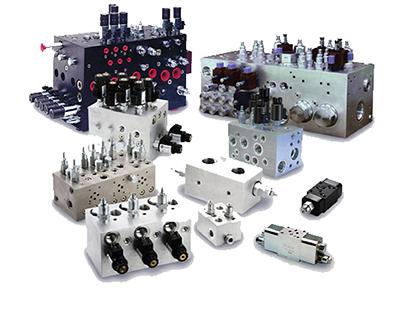 Designing and processing
We use CNC machine tools for machining manifold ports, which ensures the concentricity of the ports.
In order to make sure the processing accuracy of manifold ports, we renewal the cutting tools of machining equipment regularly.
After manifold block being formed, we further process the manifold block by deburring, sharp edge removing.
Standard Manifolds